AIIMS MAY 2005 FULLY SOLVED FINALLY AVAILABLE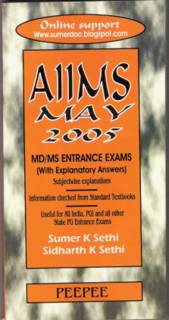 Author-
Dr Sumer Kumar Sethi
MBBS (MAMC), MD Radiodiagnosis (LHMC) (Gold medalist)
CURRENTLY SENIOR RESIDENT RADIODIAGNOSIS LHMC
ONE OF THE TOPPERS IN AIPG 2000, AIIMS 2000 AND PGI 2000. EARLIER WAS IN TOP 5 IN CBSE PMT AND DPMT. AUTHOR OF "REVIEW OF RADIOLOGY" & MAY 2004 AIIMS, AIIMS NOV 2004, ALL INDIA 2005 BOOK-POPULAR TEXTS FOR PG ASPIRANTS.
Dr Sidharth Sethi
MBBS (MAMC), MD Pediatrics (STD)
Salient features of the book
· SUBJECTWISE EXPLANATION OF THE AIIMS MAY 2005 PAPER
· EASY EXPLANATIONS WITH SUITABLE DIAGRAMS
·EVEN THOUGH IT IS COMPREHENSIVE ITS STILL MANAGEABLE IN SHORT TIME AVAILABLE TO STUDENTS.
· USEFUL FOR ALL INDIA, AIIMS, PGI AND VARIOUS STATE PG EXAMS
· ALL INFORMATION CHECKED IN STANDARD AND EASILY AVAILABLE TEXT BOOKS
· AN IMPORTANT PART OF PREPARATION FOR PG ENTRANCE GIVEN THE HIGH NUMBER OF REPEATS IN VARIOUS EXAMINATIONS
·FIRST BOOK TO OFFER ONLINE SUPPORT AT www.sumerdoc.blogspot.com AND www.indianradiology.com
COPYRIGHT (SUMER)
AIIMS MAY 2005 FULLY SOLVED FINALLY AVAILABLE
Reviewed by
Sumer Sethi
on
Tuesday, May 17, 2005
Rating: